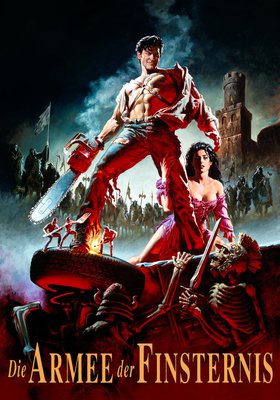 Production

United States

Release Date

Apr 22, 1993

Original Title

Army of Darkness

Director

Actors
Für den Supermarktangestellten Ashley nimmt der Horror kein Ende: Gerade noch umringt von Dämonen in der Geisterhütte, findet er sich im nächsten Moment auf einer Burg im Mittelalter wieder und soll verängstigte Bürger gegen anrückende Gespenster schützen. Der zunächst wenig begeisterte Amerikaner kann sich dem Drängen eines wohlproportionierten Burgfräuleins nicht erwehren, greift zur bewährten Kettensäge und erklärt dem staunenden Volk ein paar futuristische Tricks. Die Schlacht gerät zum Triumph.
All shows of Armee der Finsternis
Currently no data available.