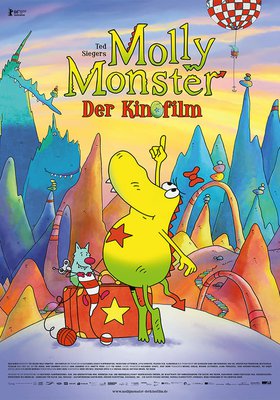 Production

Germany, 2016

Release Date

Sep 8, 2016

Original Title

Ted Sieger's Molly Monster - Der Kinofilm

Director

Actors
Das kleine Monstermädchen Molly soll nun bald ein Geschwisterchen bekommen, doch bis es soweit ist, gerät das Familienleben erst einmal mächtig ins Trudeln. Mollys Eltern wollen nämlich das Ei nach alter Sitte ausbrüten, wofür sie allerdings ihr Zuhause, Monsterland, für einige Zeit verlassen, um auf die Eierinsel zu ziehen. Molly soll, da sie für zu klein für die weite Reise befunden wird, derweil bei ihren beiden Onkeln wohnen. Doch das rebellische Mädchen büxt in einem unbewachten Augenblick aus und macht sich zusammen mit ihrem Freund Edison, einem Aufzieh-Spielzeug, auf die weite abenteuerliche Reise, um ihre Familie zu finden. (v.f.)
Molly Monster is the deeply-loved only-monster of Popo and Etna Monster. She spends her days in familiar surroundings playing with her best friend Edison, a clockwork toy with a life of his own. But whenMama gives birth to an egg (which Papa must hatch) Molly sets out on a journey to find her new place in the family. The journey takes her far away from home and over the Wild Hills to Egg Island, where she is reunited with her Mama and her Papa, and her new mini-monster sibling. »Molly Monster« deals with the theme of becoming a sister of a brother and the excitement that comes with it from the point of view of a small child. Enchanting and entertaining - a universal preschool adventure.
All shows of Molly Monster - Der Kinofilm
Currently no data available.