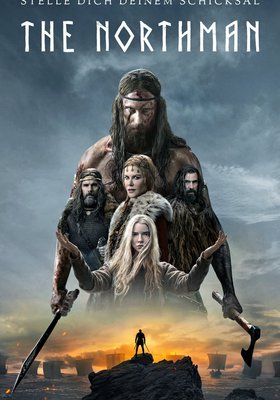 Im Jahr 895 herrscht der Wikingerkönig Aurvandil (Ethan Hawke) über sein Reich, aber plant bereits die Zukunft. Er will sich in die Totenwelt verabschieden und die Macht seinem jungen Sohn Amleth (Oscar Novak) übertragen. Doch Aurvandils Halbbruder Fjölnir (Claes Bang) hat andere Pläne und tötet den König, um selbst den Thron an sich zu reißen. Der junge Prinz kann fliehen, muss noch mitansehen, wie sein Onkel Fjölnir Königin Gudrún (Nicole Kidman), Amleths Mutter, gefangen nimmt. Er schwört, eines Tages seinen Vater zu rächen, die Mutter zu befreien und Fjölnir zu töten. Viele Jahre später ist Amleth ein kräftiger Krieger (nun: Alexander Skarsgård), der seinen Schwur von einst vergessen hat. Als Teil einer marodierenden Bande plündert er das Land der Rus – bis er beim Überfall auf ein Dorf an seinen alten Schwur erinnert wird. Als er erfährt, dass einige der gerade gemachten Gefangenen an den mittlerweile aus seinem Königreich nach Island vertriebenen Fjölnir verkauft werden, sieht er seine Chance gekommen. Unterstützt von Sklavin Olga (Anya Taylor-Joy) beginnt er seine Rache.
All shows of The Northman
Currently no data available.