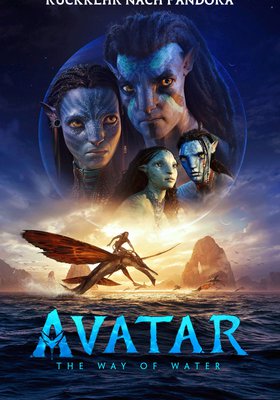 Es sind 10 Jahre vergangen und Jake Sully (Sam Worthington) und Neytiri (Zoe Saldana) leben mit ihren 5 Kindern Neteyam (Jamie Flatters), Lo'ak (Britain Dalton), Tuktirey (Trinity Bliss), sowie dem adoptieren Menschenjunge Miles "Spider" Socorro (Jack Champion) und adoptierten Kiri (Sigourney Weaver) auf Pandora. Doch ihre Ruhe bleibt nicht lang bestehen, denn alte Bekannte dringen erneut nach Pandora vor mit verbesserter Technologie. Um ihren Na'vi-Stamm vor einem weiteren Krieg zu beschützen, sucht Jake mit seiner Familie Zuflucht bei dem Na'vi-Stamm der Metkayina. Dieser Stamm lebt an der Küste und dem Meer von Pandora und wird von Ronal (Kate Winslet) und ihrem Mann Tonowari (Cliff Curtis) angeführt. Doch die Familie Sully bleibt nicht unentdeckt.
All shows of Avatar: The Way of Water
Currently no data available.