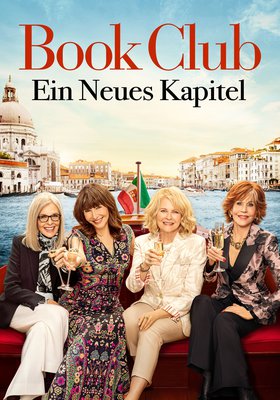 Production

United States, 2023

Release Date

Jan 1, 2023

Original Title

Book Club: The Next Chapter

Director

Actors
Vivians, Dianes, Carols und Sharons Leben wurden gerade erst auf den Kopf gestellt, als mit den "Fifty Shades of Grey"-Bestsellern auch die Erotik wieder zurück in die Leben der vier Freundinnen kehrte. Und jetzt steht ein großer Mädelsausflug nach Italien an. So einen hatten die vier nämlich noch nie, also muss das dringend nachgeholt werden. Natürlich laufen die Dinge eher nicht wie geplant und letztlich ganz schön aus dem Ruder. Ihr Urlaub verwandelt sich damit ungewollt in ein wildes Abenteuer, dass das Quartett quer durch ganz Italien reisen lässt.
In der Komödie Book Club 2: Das nächste Kapitel verlegen die Freundinnen des Buchclubs aus dem Vorgängerfilm Book Club ihre literarischen Eskapaden nach Italien. Sie wollen den Mädelsurlaub erleben, von dem sie immer geträumt haben. Doch in Italien geht ziemlich schnell so ziemlich alles schief, alte Geheimnisse kommen ans Licht und plötzlich verwandelt sich der Erholungsurlaub in ein Abenteuer, das die Freundinnen durchs ganze Land führt.